Simplify developer onboarding
Expose API products and documentation to internal teams, partners and customers. Manage developers, group them into teams, use our teams dashboard!
Developer Friendly
Makes it easy for developers to learn about your APIs with request/response API discovery
Customizable and Extensible
Customize the developer portal according to your brand guidelines and add external modules
Better Access Control
Specify access rights/privileges to users and apps created by users through dashboard
---
Building Apigee connected developer portal for Royal Caribbean Cruises Ltd.
Royal Caribbean Cruises partners with Stratus Meridian in building developer portal to serve internal teams, partners, on-boarding developers and provide interactive documentation.
Manage your business APIs
Enable processes that grants a business control over and visibility into the APIs that connect their applications and data.
Why choose

Developer Portal?
Developer Portals bring both things together: Product and Community. It is a central place where a company exposes all their APIs to the world, accompanied by developer guidelines, code labs, test consoles, etc. It is a place to build and discover.
Simple integration with auth support

Developer portal supports OAuth and other leading auth services to ensure security right out-of-the-box.

Analytics to value your APIs

Analyze and control the quality of APIs exposed using the built-in analytics and update the APIs as per your business goals.

Available both as saas and on premise solution

Stratus Meridian offers developer portal solution both as a saas product as well as on premise installation.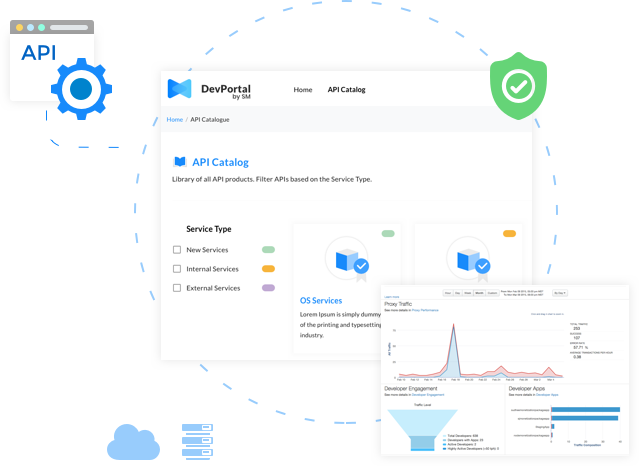 How it Works?
Simply install our developer portal, add edge authentication and sync developers and developer apps. Our Ansible playbooks will make your installation a breeze!